What are people saying about
Mikeska Brands ? .......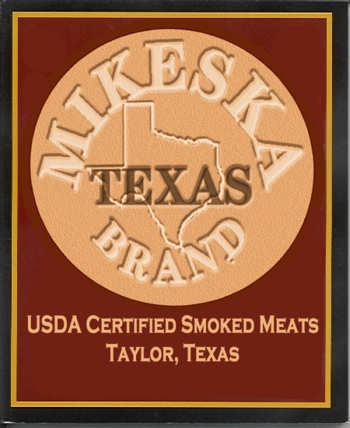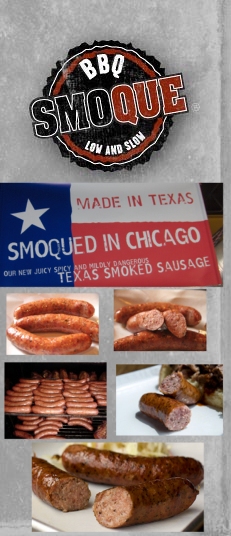 Texas Sausage
These spicy sausages are unlike any hot link in Chicago. To find them, we had to go all the way to Taylor, Texas, home of Rudy Mikeska's BBQ, owned and operated by what Texas Monthly dubbed "the first family of Texas BBQ." We think these Texas smoked sausages are really special. Distinctly juicy, complex, and balanced in flavor with a soft and lingering background heat, we wouldn't dare serve a sauce with them. ... Barry Sorkin, Smoque BBQ Chicago IL

by Rachel Feit
Rudy Mikeska's 300 W. Second, Taylor,
512/365-3722 Tuesday-Thursday, 10am-3pm; Friday-Saturday, 10am-7pm www.mikeska.com
The Mikeska name is arguably one of the most widely known among lovers of Central Texas barbecue. Starting with John Mikeska, who organized a beef club during the 1920s, three generations of the Mikeska family have been peddling meat from various stores throughout the state. As John's children grew, each of them entered the food business. Son Mike operated a barbecue restaurant in Smithville, Jerry in Columbus, Louis and Clem in Temple, and Maurice in El Campo. Each of the three Mikeska daughters opened restaurants, as well. In Taylor, John's third son, Rudy, parlayed his experience managing the catering operations of the Taylor Country Club into a successful barbecue business known as Rudy Mikeska's. Today, the business is run by his son Rudy "Tim" Jr., who has elevated the operation beyond the small-town meat stand, catering events in honor of U.S. Presidents, Texas governors, English royalty, Hollywood actors, and country music stars. Tim Mikeska has personally served barbecue to peacekeepers in Bosnia and has appeared on the Food Network. Until recently, Tim Mikeska made the sausage himself every day using Rudy's spicy sausage recipe. Two kinds of black pepper, red pepper, and salt were added to pork scraps and beef tallow to make the classic Czech-style pork sausage that made Rudy Mikeska's famous. Now, in order to fill the volume demanded by Rudy Mikeska's clients, the restaurant has its own USDA-certified brand that it makes in a processing plant. Owner Tim Mikeska says the only difference is that the cuts of meat are actually better than they used to be (and they no longer use beef tallow). The proof is in the flavor, which is bold and meaty, and in the continued patronage of not just Central Texans, but customers worldwide.

by MM Pack
Central Texas BBQ Dynasties What Becomes a Legend Most?
It isn't difficult to understand why the Mikeska clan has been dubbed Texas' First Family of Barbecue. This dynasty, spread over Central Texas and spanning three generations, was founded in the 1920s when John Mikeska, a Czech immigrant in Taylor, operated a "meat club" with his six sons. The family processed cattle, hogs, goats, sheep, and chickens for area farms, in exchange for an allotment of the meat. After World War II, the Mikeska brothers leveraged their meat-cutting skills into owning butcher shops in various Central Texas towns. They began making sausage and barbecuing unsold meat, and their reputations as pit-men spread. By 1965, each brother had his own barbecue establishment: Rudy in Taylor, Mike in Smithville, Jerry in Columbus, Louis and Clem in Temple, and Maurice in El Campo. Their sister Val Mikeska Lindeman assisted Clem in Temple, and sister Ann Mikeska Jozwiak owned Taylor's Diamond Inn. Sister Martha Mikeska Vanecek raised Benny and Michael Vanacek, who currently own 26 McDonald's franchises and sit on the McDonald's board of directors. While the brothers shared business ideas, cafeteria service, and décors of mounted game, each developed unique recipes and barbecue styles. Only Rudy prepared lamb ribs, and Clem serves sirloin instead of brisket. Some brothers used live oak; others preferred pecan. Each spiced his sausage differently. With their similar-but-different styles in their separate-but-proximate towns, they all maintained reputations for great barbecue and they've served celebrities from sitting presidents to rock stars. Today, barbecue remains a Mikeska family affair. While Louis and Mike are deceased and their places in Temple and Smithville have closed, Jerry Mikeska, nearing 80, still runs his own Columbus operation. In El Campo, Laurice Mikeska Vacek, Nick Mikeska, and Gerry Mikeska work with Maurice in the Old Pit, the New Pit, the Lunchbox (in Maurice's original meat market), and the Freeway Location. In Temple, siblings Stephen Mikeska, Anna Mikeska-Payne, and Angela Mikeska Conlan assist Clem in the restaurant, catering, and mail-order business. In Taylor, Rudy Jr. "Tim" Mikeska and Judy Mikeska Kaase follow in their late father's footsteps, and they've expanded the operation across the globe. Tim served barbecue to England's Prince Philip and in Bosnia; he recently appeared on the Food Network with Bobby Flay. And the next Mikeska generation? Tim sums it up: "I tell my children what my father told me, 'If you like the business, it's there for you.' I think my uncles and cousins would say the same."
Posted by: Bradley | May 28, 2007 at 06:39 PM
Was at Smoque in Chicago this weekend for the debut of their new Texas made hot links. They were amazing. Lean and spicy. They are made in Taylor Texas, home of the Mikeska Barbecue Family and got to meet one of them at Smoque last Saturday. Nice man, great sausage

Posted by Monica Eng Food Editor Chicago Tribune:
The words "hot guts" may not make your mouth immediately water, but they do when I hear them in conjuction with the special Texas made sausage that makes its debut at Smoque (3800 N. Pulaski Rd.; 773-545-7427) on May 17.
Smoque owner Barry Sorkin says these links, made by Rudy Mikeska Jr. of Taylor, Texas, are "different from any Chicago-style link that I've ever had. Very different flavor profile and texture. Some places in Texas will call them 'hot guts.' I'm not sure Chicago's ready for that phrase." If they taste as good as Sorkin says, I just want to call them dinner. You can come and taste and talk to Mikeska all day at Smoque on May 17.
and the following product reviews....
was at Smoque on Saturday to try the Texas Hot Links and they were THE BEST. Also met Mr. Mikeska and what a nice man he is. A walking history lesson in Texas BBQ, Going back for more on Tuesday. Dennis
one word. Amazing! That was the best sausage I have ever had. Finally real Texas made Hot Links in Chicago. Impossible to eat just one. The man from Texas greeting everyone at the door was also worth the line and wait. Made our family feel like we were visiting friends for dinner. Will be going back weekly. Paula
read the report from Monica about the texas sausage. Always enjoy the wonderful brisket at Smoque so off we go on Sunday. Handsome texan at the door greeted us with a sample. I was hooked. Brisket was again superb but the texas sausage was beyond delicious. Next time I'm taking some home with me. Maybe the guy from Texas too! His accent and voice had me at "howdy". Both yummy. Laura
Not really a sausage fan but husband is. I have never found one that I liked. Always to greasy and to many bad fillers. Hubby goes to Smoque frequently at work (Police Officer) and read the info about the Texas Sausage and the family in Texas that makes it. We found the crowds Saturday to be long all the way out to the street but they moved fast and was greeted with a friendly smile and some Texas sausage at the door. Hubby made me try it. It was OK. Then as the line progressed to the counter I began to realize that it was good and wanted more. We each got some links with our ribs and brisket. Then I realized that it was really good. Hubby liked the way the skin snapped when he ate the whole link. He said that's important. Anyway. The Texas sausage was very good and now I finally have a sausage that I like. Its very lean with zero grease and spicy. Wanted to take some home but the line was out the door and down the street. Next time. Smoque BBQ just can't seem to do anything wrong. Gayle
My family is czech and I noticed the name on the napkin holders at Smoque during my lunch break and took the time to look this company up. Great website and obviously a very famous Texas barbecue family and czech family to top it off.... ! The crowds were long on Saturday but its worth the wait. The Texas Hot Guts/Links/Sausage whatever you choose to call them were tasty. Reminds me a little of my grandfathers sausage except these are lean and the spices are perfect. Nobody likes bland food. This is not bland! But not too spicy where my kids were concerned. They also loved them. We will be back. David Hodek
our daughter lives in the Austin Texas area and we get to visit her a few times a year, eat good bbq, listen to good music and see so many friendly Texans. Visiting with Tim Mikeska on Saturday at Smoque was a reminder of how nice and friendly Texans are. His sausage was the best. Spicy and lean and just impossible to stop with one link. Congrats to the guys at Smoque for bringing Texas to Chicago. Carol and Ed Davis

by Heather Shouse on May 20th, 2008
This past weekend, Smoque BBQ debuted smoked sausages from Texan Rudy Mikeska, who was on-hand for the madder-than-usual madness (the amount of camera action from the online food forum contingency was equal to the tabloids competing for a shot of Britney leaving a 7-11 barefoot clutching a Mountain Dew Slurpee, an image somehow still print-worthy). Anyway, the natural casing pork sausage fits right into Smoque's Texas-style barbecue format, which makes sense since that state is where Smoque's owner Barry Sorkin did most of his preliminary research on the topic. It's juicy, with some black pepper and paprika, and gets a bit of a crust thanks to a final bid in Smoque's smoker.
David Havelka | May 21st, 2008 at 10:32 pm I fought the crowds along with my wife and kids last Saturday and tried Smoque's new Texas Sausage. I was hooked at first bite. The texture is very unique. Not too fine and not course either. The pepper has a slow yield to it. After the 2nd and 3rd bite you begin to savor the mix of seasonings. Then the spicyness kicks in. I was surprised to find out from Rudy Mikeska himself that he uses only jamaican black pepper since its so expensive. Anyway.. he was nice to talk to. very friendly and a breath of fresh air in the normally crowded Smoque
Larry Sims | May 22nd, 2008 at 6:52 am I agree 100% with the comment. This is a unique sausage unlike anything I have ever had. I go to Texas often and have never had this particular sausage but I am impressed that it is so lean and tasty and the man from Texas on Saturday was first class friendly. Even though Smoque is known for having the best brisket in the city, I predict the new Texas Hot Links will overtake it. Sincerely, Larry Sims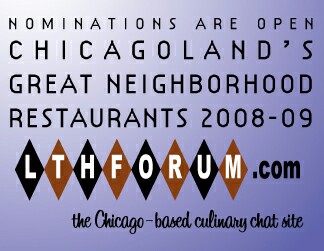 forum comments
I'd heard that Smoque would be rolling out their new sausage product and hosting something of an open house on Saturday May 17th. I decided to take the family and stop by. The event featured Rudy "Tim" Mikeska of Taylor, Texas, the man who is behind the sausage Smoque finally selected as the one they are going to serve. The 100% pork recipe has been in Tim's family for well over 100 years and originated in Czechoslovakia several generations ago. While it's changed somewhat over time (shoulder is now used in addition to an 80/20 blend and the heat has been amped up in a slight "Texafication"), it's essentially the same recipe that was originally brought over to the U.S. by the Mikeska family. Of course, Smoque was hopping when we arrived at about 6:30. However, the line, which was slightly out the door, moved quickly and we were seated and eating about 25 minutes after we arrived. Even though business is often brisk, the folks at Smoque have found a pretty efficient way of handling it. As folks carried their food away from the counter, it seemed there was always a place for them to sit, as the crew directed traffic and bussed the emptying tables rapidly. While we stood in line, I had a chance to speak with Tim about sausage-making, as he passed out samples to the folks waiting in line. The sausage, which is smoked once in Texas and again at Smoque, is delicious. It's a naturally-encased product with no filler of any kind. The heat, which is subtle and nicely-balanced, hits the palate in the aftertaste. The definition is somewhat course and the texture is tender. I snarfed up about a entire sausage worth of samples and then, for $3, added a link to my order of baby back ribs. The sausage is also offered in a few other ways, including by itself or as part of of a platter with sides . . . All in all, it was another delicious and satisfying experience at Smoque. It's great to have yet another tasty item on the menu and I look forward to making it part of my regular rotation..... Ronnie
My son is a regular commentator here and told me that I should make a comment about this topic since I had the pleasure of talking with Mr. Tim Mikeska when he visited Smoque BBQ last week. I am a retired professor of Slavic Languages who also loves good BBQ and especially good sausage. We could not resist the opportunity when Smoque announced their Texas Sausage. It was very busy last Saturday but Mr. Mikeska was near the door talking to all the patrons waiting to get inside. I asked where was his family from. He, of course, said Taylor Texas. I tried to then trick him by saying in czech, "tam zcela správne? Which meant, "where exactly? He very surprisingly replied in near perfect czech, "zcela správne??" I said yes, and then he told me that his grandfather was from the Moravian village of Zádverice, his grandmother was from a Bohemian Village that is no longer there thanks to World War II. He was very knowledgeable in not only the czech language but also his family's very colorful history. It is refreshing for someone of his age and generation, 40's, I assume, to know the czech language and to know so much about where his family came from. He told me he has his direct lineage all the way back to the 12 century. It was an immense pleasure to hear someone speak czech in his customary Texas drawl. Now, about the history of his sausage. He told us that his recipe originated with his great grandfather who was a butcher and sausage maker back in Moravia in the 1860's. That recipe remained untouched for over 100 years until after his father passed away and he started adding more combinations of black pepper and red pepper. He said he used 3 different grinds of black pepper and a blended red pepper along with salt and garlic. When he started making it for resale, he had to follow the USDA inspector's wishes and add a nitrite based for preservation. There are no MSG or soy fillers or anything but boneless pork shoulder and spices. I would have loved to have talked to him all day, but the line of people wanting into Smoque was long and he was very kind to have giving me the time that he did. The BBQ at Smoque is the best in this city hands down. I personally love the tender juicy brisket and St. Louis ribs. Now, my usual plate has that along with 2 links of Mikeska sausage and some more to take home. By the way, it's not kielbasa in our language, its klobása which is totally different and Tim Mikeska has obviously made it his own by turning that old czech recipe into a Texas spicy sausage which my son the expert, his entire family, along with his old man here thinks is the best sausage anywhere.... Paul Mikulas
I love sausage. Good Sausage!, that is... and good sausage is hard to find. I have tried all of Hot Dougs sausages here in Chicago and find none to my liking. I have tried a whole multitude of sausage in the grocery stores. I tried the hot links in the dangerous bbq joints on the southwest side of town. I have tried Uncle Johns. I have ordered the "so called famous" Elgin Texas Hot Sausage online and found them to be 90% fat and full of grease which caused me to take a trip to my doctor the next morning. I ended up not liking any of them. I read in the online Tribune that Smoque over on Pulaski was bringing some new sausage to town. I have been to Smoque only once and was not willing to fight the long lines and I was short on time and could not stay. So last Sunday thinking it would be safe to visit at 2 pm ... HA! not... another line but at least it wasn't outside. I bought 3 links and nothing else. I didn't want to spoil my pallet with brisket, ribs or pulled pork. I cut into the first one. Very tender and nothing spilled out. I noticed inside how lean the meat was and realized this was a real sausage casing. Then, I entered into some kind of out of body experience as I continued to eat the rest of this sausage. It was more than just good. It was GREAT! I was immediately hooked. Why had I not heard of this sausage before? Where has it been all my life? It's peppery good with just enough heat to let you keep eating without wondering where your next drink is. But what I liked the most is how clean it looked inside. It looked very natural. So upon my return home I did some investigating online and found out more about this Texas family that makes it. Very interesting reading. They have served Presidents, movie stars, and even british royality with this sausage and yet I had never heard of it! Have you ever read the label on sausage you buy at the grocery store? You need a dictionary, thesaurus, and a physicians desk reference along with a degree in chemistry just to understand the contents! I found the label for this Mikeska Brand Spicy Pork Sausage. You know what it says? Pork and Salt and Spices. THAT's IT! That's really amazing. I finally have a favorite Chicago sausage and I will make Smoque BBQ a mandatory weekly visit to get my "sausage fix". So take it from someone that has looked far and wide for good hot sausage. Smoque BBQs new pork sausage is the best in the city and maybe the entire country! Mikeska's Sausage is the King of Chicago Sausage! ...Rick Sheffield
Very much agree, Chicago style hot links and Mikeska's Texas sausage are different and enjoying one certainly should not be at the exclusion of the other. Smoque's Texas sausage have a bit of red pepper heat up front with a subtle black pepper finish, leaner, and probably more healthy, than I am used to in a sausage, with a nice bite through crackle on the casing. I really enjoyed the sausage and the fries were just about perfect. When Smoque first opened I suggested the BBQ was as good as it was ever going to get, that they would succumb to the pressure of mounting crowds and start taking shortcuts, at the very least start cooking well in in advance to meet increasing demand. I was wrong, the BBQ I had Saturday at Smoque, in particular Saint Louis ribs, was as good as I've had at Smoque. My doom and gloom predictions completely unfounded.....GWiv
Had lunch with my friend Laura P at Smoque yesterday, Texas style sausage was dead-on, nice crisp snap to the casing, juicy peppery interior, a delicious smoked link. Would have been even better if I had a slice or three of cheap white bread, the classic BBQ accompaniment, on the side....GWiv
We carried out lunch for our office today from Smoque and it was awesome, textbook. There was great bark on the brisket and the pulled pork, both of which were tender and nicely fatty. Babyback ribs were smoky and juicy with a nice crust. The sausages were intoxicatingly good, with that mild spice and tell-tale snap.....ronnie_suburban
Smoque's sausage is amazing as well as their brisket..... djenks
outsanding food, outstanding hospitality, execllent peeps, and outstanding texas sausage Smoque uses....baby ray
Did you guys see Tim Mikeska on Andrew Zimmerns Travel Channel program last night? Very impressive ranch operation they have there! I was in awe of their back patio and all the exotic game they have. The food he smoked look delicious. I got an urge to go to Smoque when I saw those hot links going on that pit! Anyway... you guys need to watch it. Its good to know that they guys at Smoque chose a real Texan with real good food and a great family dynasty for their inspiration. Texas hot links on Pulaski.... here I come...!...Rick_Sheffield
My wife and I made our maiden voyage to Smoque yesterday (finally!). In an attempt to try as much of the menu as possible, we ordered a half slab of the St. Louis ribs with fries and bbq beans, an a la carte sliced brisket platter, taste of pulled pork and a taste of the sausage. Everything was delicious, but there were two standouts. The ribs and sausage stole the show. We both really loved the flavor and texture of the sausage....the wimperoo
every time i have been here it has been right on . the sausage is great ....philw
A buddy and I went to Smoque a couple of weeks ago and thought it was great! We went on a Friday around 3 and was still a nice stream of folks coming and going. The standouts for us were the Brisket and the Sausage. Spot on! Nice bark and smoke ring on the brisket and very moist as well, the sausage had nice spices and snap to it....jhawk1
My favorite of the meal was the brisket chili which had a good mix of chili flavor (chili powder with cumin) and smokey flavor. I should mention that I crave chili every day during the winter, so my liking the chili best should not be read to imply that I didn't enjoy the other items too. Oh yes, and we really liked the sausage....vickyp
Count me a fan of Smoque, friend and fan of Barry Sorkin and the place in general. While I've not had a bad meal I've never been exuberant, with the possible exception of the Texas style sausage. about any particular item, its always been a 'whole is greater than the sum of its parts' experience....GWiv
The brisket was tender, smoky, and flavorful with a nice bit of crust on each slice. The chicken was juicy, beautifully pink throughout from smoke, and had just enough BBQ sauce to give it a nice flavor without making it goopy. The Taylor, TX-sourced sausage link was excellent, with spice, snap, and a nice semi-coarse texture that really hit the spot (and was a steal at $3/link)...Khaopaat
I'm also of the opinion that Smoque has gotten so much better since it originally opened, and I thought it was hitting on almost all cylinders back then. But be it the brisket, pulled pork or Texas sausage, the meat is just great. On occasion, the St. Louis ribs have a little less chew than I like, but the flavor is outstanding. If I had to pick a favorite, it might be the sausage but I usually opt to visit with friends and share 'em all....BR
My brother reallllllllly likes the sausage, a lot lot.... I go for their brisket and to steal some of his sausage The ribs there are simply not as good as my fav. TX BBQ place, but their brisket is crazy good at Smoque in my lovely opinion....neenee321

Best BBQ IN CHICAGO... ! 0 Obviously the other people commenting have no clue what real "que" is. Real bbq you have to wait in line for, Real bbq allows you to sit in a crowd of hungry happy people. I was born and raised in Texas and have been living here in Chicago for 11 years. Until Smoque showed up, the only real Texas style bbq was IN TEXAS! I was there the first week it opened and was there last week when they started selling Mikeska's Hot Links, and I was have been there every other week in between. Smoque is the real deal. The tender juicy brisket is actually BETTER than any I have had in Texas. The ribs are meaty and tender but NOT falling off the bone. Texans like their ribs like their women... tender but still having some meat ON the bone to pull on with your mouth! The mac and cheese was something unusual but addictive. Have no idea whats in it or how they get smoke flavor on it but its wonderful. Slaw is tangy and good. Beans are sweet with chuncks of meat and onion. Then there is the new Texas hot links. OMG. Thankfully someone has had the smarts to finally bring real Texas Hot Links to Chicago. They are in real casings since you can hear the pop when you bite into a whole link.... which I did often on my way home with 8 links... and with zero grease! My pants and shirt were like new when getting home unlike the results I have had with other sausage and dry cleaners bills...! Overall, Smoque is the best bbq in Chicago hands down. I should know since I was born in Lockhart Texas which is known as the Texas BBQ Capitol. Go to Smoque, get the brisket, hot links, slaw, macncheese and cobbler. You won't regret it. Happy Trails! 5/24/2008 Posted by Lance512

Fat Willy's vs. Smoque Round 2 Okay, there really wasn't a round one... I have however made blanket statements about Smoque having the best pulled pork in Chicago and Fat Willy's brisket being the best. This time around it was different. I didn't eat any brisket at Willy's - they were out of it (a good sign). But I ate sausage at both. I'd like to say that one was better than the other and wile I had a preference for certain items, they both had their own successes and - oh my - disappointments. Disappointment really has no place in the conceptual realm of BBQ. There are always preferences and assumptions but nothing is ever bad, right? Let's go with that and simply say I assumed the smoked sausage at Fat Willy's would be better... and that I preferred Smoques. By far. In fact the smoked sausage at Smoque was the highlight of that lunch. Where Willy's smokes a hot dog, forcemeat-style sausage, Smoque's is more Texas sausage-style. I really preferred the unbelievable goodness of the Texas-sausage.

My wife and I lived in Texas for 18 years and since we've lived in Chicago we haven't found any place good for BBQ. Not, at least, until we found Smoque in Irving Park. I thought the approach they take here was interesting where they take the best things from the different regions of the USA. My wife and I both had the brisket and I added the Texas sausage. The brisket was very tender and juicy, but I really missed the heavy mesquite or hickory smoke flavor. If it had a smokier flavor I may have rated it the best I've ever had. The sausage was very good..... bohste 27 contributions Geneva, Illinois
Fans of Guy Fieri, DDD and BBQ, we had to make this trip. Smoque did not disappoint!! Well worth the journey, they food was excellent, and we tried almost everything just because we could. The St Louis ribs were delicious - moist, juicy and fall-off-the-bone tender - while the baby backs were kinda dry, but still yummy; the sausage was good; the brisket was spectacular...phrzzy 7 contributions Canada
Probably the most authentic stuff north of the moonshine belt. They pull it off wonderfully. Tender beefy brisket, snappy spicy smoked sausage, and done just right ribs. Great service. Great package.... Minnesotta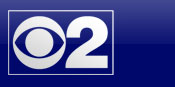 One of the Best BBQ in the City I love Smoque. I need it at least twice a month if not more regularly. My friend and I started checking out different Chicago BBQ restaurants this year to find the best and I have to say Smoque has some of the best BBQ in the city. The St. Louis ribs are by far my favorite. The sauce, the rub, the perfection of it's cooking is always consistent. I mention the sauce because they have different sauces for their different foods. You don't need sauce but it adds another dimension to the food. The Baby back ribs are good. They aren't the best I've had in the city but they are still far better than most others. They recently added Texas sausage which is their version of hot links, not as spicy but defiantly fantastic....bb27bb

The brisket was charred just right, moist & juicy on the inside. I had it on a sammich with bread almost as thick as Texas toast (which is a good thing). I also tried the "Texas Sausage." It was as good as you could get it up here--- with flavor of mesquite wood and a bit of pecan.. it tasted the way I expected -- which is as good an endorsement as any. Josh C.
The sausage at Smoque. It's Rudy Mikeska's from Taylor Texas. Best sausage I have found anywhere. I think it's custom made for Smoque and shipped weekly here from Texas. I am addicted to those spicy links....
The people who own Smoque are brilliant for bringing Mikeska's Hot Sausage to Irving Park and Chicago. We read the reviews and first looked up Mikeska's online back in Texas, www.mikeska.com read their impressive history and then headed to Pulaski Rd.
Texas Sausage...... OMG INCREDIBLE!
The new Hot Links from Mikeska's in Texas just proves the fact that the people that own this place are dedicated to being the best. I always thought there was something missing but now the sausage seals this place in Chicago history as being the best que joint in Chicago. The hot links are not as spicy at first bite but midway through the link the heat kicks in. They are tender and lean. I squeezed the link and nothing dripped out. I love the fact that they have real casings. So many do not. You have to try them.....
Smoque has now reached BBQ Nirvana! DavidM Chicago IL
I also noticed they now have hot links which are imported from Mikeska's in Texas. Woo Hoo those are tasty spicy sausages! JoelK Chicago IL
Im from st. louis originally and this is deffinantly in the same vein, apply you own sauce, slightly spicy, not to sweet, goodness...people say the brisket is the best but i just love ribs, so im gonna say the ribs then brisket, haven't had the pulled pork but friends have they said its good, and the new texas sausage is great, just really good flavor all around...TylerL Chicago IL
The Texas Sausage was excellent, and it reminded me of Kielbasa...BrendenM Chicago IL
Was just in Austin this weekend on business and drove over to Taylor to make a pilgrimedge. I got hooked on Mikeska's Hot Links at home in Chicago where I am now a regular at Smoque BBQ. Tim Mikeska was one of the people that was kind enought to give his talents and advice to the guys in Chicago that opened Smogue which is now the busiest BBQ Joint in all of Chicago. I was immediately surprised at the size of this operation. The building must have taken up a whole city block with another block available for just parking. Their dining room was bigger than Smoque's entire restaurant and parking lot! First I had to have the spicy pork sausage. Being able to eat it at its home base where it's made was a real treat and as always it was amazingly good. Just like in Chicago. I ate 3 whole links and took 2lbs back to hotel! The brisket was good and spiced with a little more pepper than the Chicago operation. Was a bit more drier than Chicago's but still very, very good. I liked the set up. Unlike Smoque, you get to see your meat being cut and see all the sides lined up like a cafeteria. The czech potatoes were unbelievable! and finished up with some banana pudding. The smell was a little different inside. Not like the heavy aroma of smoke in Smoque Chicago. I finally figured it out when I saw a whole car loads of people ordering hamburgers. It was hamburger I was smelling being grilled with onions. I assume Mikeska's must have their pits somewhere else in this monster building causing the smoke to be elsewhere. I found out from the locals that this was a famous hamburger that has been made the same way for over 80 years. One of the Mikeska's also had a hamburger stand downtown for many years and when he retired they move the hamburgers over to the BBQ operation. So, being in Taylor I decided to unlatch another notch on my belt and have one. One word..... OMG... great! I have no idea how the get the flavor into it the meat. It is a little greasy but it was worth it. I was looking forward to seeing Tim Mikeska again. I really enjoyed talking to him in Chicago. Sadly he was doing a large catering job somewhere in Texas. They are very well known for their catering. I was very thrilled to see the Taylor operation and to see the home where all that great sausage is made. Until I get back to Texas, I will just have to get my Mikeska's sausage fix at Smoque in Chicago. ... DavidM. Chicago IL
To sum it up...this is the best BBQ I've had in Chicago. I've had their brisket, pulled pork, texas sausage and every side they have to offer and have not been disappointed yet. I highly recommend this place for anyone who has been searching for good BBQ in the city of Chicago....Don D. Chicago, IL
You don't need me to tell you what the hundreds of other reviews have. The food at this place is great. The St. Louis ribs, the Texas sausage, the pulled pork sandwiches, the cornbread, the mac & Cheese, and the french fries were all sampled by yours truly on a recent visit. It was BBQ heaven....Jason P. Naperville, IL
Absolutely a top notch BBQ pit. The whole package. Good brisket, sausage, home cut fries, and beans were very well done.... Mark T. Meridian, ID
The sausage was wonderfully smokey with a hint of spice in the background....Erica Chicago, IL
They did, however, offer me another side of my choice so I got some texas sausage and a corn bread muffin. The sausage had a hint of heat and was very smokey, I loved it!....Lindsey C. Chicago, IL
The sausages were very good and I'm not a sausage person, and the beans were extraordinary....Jean C. Chicago, IL
We ordered the combo rib platter, pulled pork sandwich and texas sausage. Ribs were juicy, tender and falling off the bone, the St Louis Style had a nice flavor to it, they offer BBQ sauce on the side , slightly sweet and not too vinigar-y. Don't miss the texas sausage, lots of flavor and well worth it... shirley m. Chicago, IL
This place is ridiculous! If you are a BBQ snob, like me, you will love Smoque. As a Texan, I know GREAT barbeque and Smoque delivers! The brisket is the best outside of Sonny Bryan's in Dallas. The sausage is imported from the world famous Mikeska's.... Trey M. Barrington, IL
If you love true Texas barbeque then you will love this place. It still doesn't come close to Salt Lick, Driftwood or Rudy's in Texas but it's pretty good and it's in CHICAGO! I don't have to go all the way to Texas for good barbeque. Everything looked tasty so I was in a bind. I was eating for one today and I wanted everything. So I ordered taste portions of brisket, pulled pork, texas sausage, mac/cheese, and cole slaw. The brisket is fall-apart good. The pulled pork was a tad dry. The sausage took home the grand prize! It's smoky, garlicky and very flavorful. The casing is crunchy and a good thickness..... Cynthia L. Chicago, IL
i'm always up for bbq. smoque is the best place i've found for bbq in the area. the sausage and chicken are amazing... Ann L. Chicago, IL
Let's start off with the sides. I never was a baked beans fan, but now I'm a believer. Their brisket chili is killer awesome, their Texas sausage is spicy and delicious....Amanda D. Chicago, IL
Came all the way from Houston, Texas to check out this BBQ on the recommendation of our Chicago family. Sure... we saw it on the Food Network but who knows more about BBQ than Texans??? We were skeptical but let me tell you this is the REAL DEAL...ribs smoked to perfection, tender and delicious briske and, unforgettable sausage...Elaine P. Houston, TX
I am from Austin, TX and the guys that started this place got much of their inspiration from there. In fact, their new sausage is made in Taylor, TX (about 30 min outside of Austin). They are very true to form for someone that eats BBQ once a week....Matt D. Austin, Tx
Smoque served up some delicious briskets. I got the brisket platter (half chopped, half sliced), cornbread, and peach cobbler with a taste of Texas sausage. OMG! The savory brisket melts in your mouth, especially the sliced brisket. I much prefer the sliced over the chopped brisket. The Texas Sausage was a little spicy and was perfectly grilled....Tom T. Chicago, IL
I have eaten at the Salt Lick in Austin, TX more times than I can remember. I used to think they had the best BBQ in all the land, but now I must confess that Smoque is vying for that sauce-slathered place in my heart. Their brisket is amazing - it comes out hot and tender with a sauce that compliments it well. The sausage is delicious and authentically Texan....Suzy M. Chicago, IL
We had their sliced beef brisket sandwich, ribs, texas sausage, peach cobbler (and order of 3 of course), and their side of fries. Again, everything was great..actually their sliced beef brisket sandwich is way better than their chopped version. The texas sausage was so good, smokey and peppery....Terri N. Chicago, IL
The best BBQ I've had in Chicago. But the place is way too small for the crowd it draws - we ordered but had to wait for almost 20 minutes to sit down! The ribs were just right - crusty on the outside but juicy and tender. The pulled pork didn't have as much flavor as I wanted to see, but the "Texas sausage" was excellent....Brian S. Chicago, IL
The brisket is fantastic- tender smokey goodness. The sausage was also pretty damn good....April L. Chicago, IL
This place is awesome. My wife is from the South and everywhere I had taken her for bbq was not up to snuff. Until this place. We love the pulled pork sandwiches, the St. Louis style ribs and the Texas sausage....Joel T. Chicago, IL
The pulled pork is great. So is the sausage. Tender and tasty....kelly c. Chicago, IL
Finally got to try the fantastic Smoque and it did not disappoint. I tried the beef brisket and the Texas sausage and they were both great - not overpowering, just pleasant and tasty...Scott B. Chicago, IL
Overall, an awesome meal and I cannot wait to return for their pulled pork and Texas sausage....eileen b. Chicago, IL
The brisket was charred just right, moist & juicy on the inside. I had it on a sammich with bread almost as thick as Texas toast (which is a good thing). I also tried the "Texas Sausage." It was as good as you could get!....Josh C. Chicago, IL
Oh, and get a sausage on the side. They ship it in from Texas, and it's worth it.... Chris M. Chicago, IL
I also noticed they now have hot links which are imported from Mikeska's in Texas. Woo Hoo those are tasty spicy sausages!...Joel K. Chicago, IL
Im from st. louis originally and this is deffinantly in the same vein, apply you own sauce, slightly spicy, not to sweet, goodness...people say the brisket is the best but i just love ribs, so im gonna say the ribs then brisket, haven't had the pulled pork but friends have they said its good, and the new texas sausage is great, just really good flavor all around...Tyler L. Chicago, IL

the texas sausage. who knew? sweet yet smokey. it was the dark horse at the table and definitely our favorite overall.....Jillian D. Chicago, IL

Best far the class of BBQ in Chicago. I haven't seen anybody else come close to getting the Carolina sauce this delicious, The Texas Sausage has that perfect snap to it....Ryan K. Chicago, IL

So my next visit, I decided to do something else. I bought the smoky Texas sausage (actually, I wanted to just take a bite and take the rest back home). Not too spicy but smooth (it could be spicy for others with much lower tolerance for heat)....John D. Chicago IL

pretty damn tasty 'cue. the texas sausage. who knew? sweet yet smokey. it was the dark horse at the table and definitely our favorite overall..... Jillian D. Chicago, IL

Best BBQ i've had in a long time, definitely within Chicago. - Texas sausage...caroline k. Chicago, IL

Hands down the best BBQ place in the city. The Texas sausage is unbelievable and I highly recommend the baby backs and the brisket. This is the only place I will go for true smoked BBQ.....dj g. Cook, IL

Smoque is good BBQ, I did enjoy the brisket and sausage....Kenneth M. Chicago, IL

Everything was tasty (esp the sausage and peach cobbler for me).... Agnes F. Chicago IL

in my opinion, is one of the best BBQ establishments in the nation. The balance they achieve between the rub and smoker is hard to beat, The sausage is very good, with some subtle heat to it.....Don P, Glen Ellyn, IL

I've enjoyed barbecue all over the country. Smoque is among the best that I have ever tasted. The Texas sausage and the chicken, which I've only had in the salad, are also very, very good....Peter B. Chicago, IL
I grew up in Texas and am accustomed to top-notch BBQ. Smoque tastes like home. The chicken is good, (Texas) sausage is pretty great,.....Jennifer K. Chicago, IL

Texas-Size Adventure May 26, 2009, 12:00 AM
Andrew Zimmern, Chef and Host of the Travel Channel's Bizarre Foods.
Now if there's one food Texans are fiercely proud of it has to be barbecue No, not like that barbecue you think you know from say Memphis or the Carolinas ... Texas barbecue is all about the beef. And the techniques they use were brought to the Lone Star State by German immigrants who blended local Mexican and Caribbean influences that they found in Texas that dealt with the preparation of pork and applied it to beef. That's why the Mikeska family is as comfy BBQ-ing sweetbreads as they are cooking ribs-dubbed by Texas Monthly magazine as the "First Family of Texas Barbecue", Tim Mikeska is the owner of Mikeska's Bar-B-Q in Taylor and they've been serving barbecue for more than 50 years. This family of settlers of Czech origin came to Texas more than 150 years ago. What did I eat there? Well I piled my plate high with ...
*Smoked Tex-Czech Stewed Sweetbreads- As a 3rd generation Texas Czech Family, the Mikeskas took a traditional homeland Czech dish that was passed down many generations in their family, and "Texa-fied" it by marinating the sweetbreads in brisket seasoning, smoking it over oak wood, and then adding a stew mix of chopped Texas sweet onions and celery.
*Smoked Mutton Ribs - Awarded the "Best Offbeat BBQ" honor by Texas Monthly magazine. Tim marinates and then smokes the breast of lambs. Lamb breast is the thick fatty flank of breast/brisket meat still attached to the upper rib. It's very fatty and can be very chewy but if prepared right, it's superb. It was a very popular item back in the day when Texas was still predominantly using manual labor to pick their cotton. It's still one of the cheapest cuts of meat in existence today.
*Smoked dove hearts with jalapeno peppers and smoked wild dove breast stuffed with jalapenos and wrapped in bacon. Oh my lord it was good. *smoked liver sausage-another Tex-Czech dish *smoked head cheese - another very old family recipe
William May 31 2009 @ 6:18 pm Glad to see the famous Mikeska family on your program. I now live in Chicago and Tim Mikeska with Mikeska Brands supplies his great Texas Hot Links here in Chicago at Smoque BBQ. That looked like an amazing ranch they have and that fire place on their patio was to die for! Only the Mikeska's could have a 750lb SP Smoker on their patio! Wish I could find someone to smoke me some sweatbreads up here.

TEXAS BBQ N BREW - william (07/16/2009) - 5 out of 5 stars
Was pleasantly surprised to see Silverton getting some real Texas BBQ on their Sunday buffet. I saw the little sign that said Mikeska's BBQ and knew I was in for a treat. Not sure how they get this here in Vegas from Central Texas, but however they do it.. THANKS! It is delicious. Brisket was tender and smokey with a nice red smoke ring and the pork ribs were to die for. The free beer is always a nice touch too. The veggies, beans, cornbread and all the side dishes were much better than I remember the last time I was here. I only wish the BBQ was available at lunch so I could show off my co-workers what real BBQ is supposed to be.
I am becomming a Vegas buffet snob and armchair critic and need to pass on to all that the Silverton's Seasons Buffet has really impressed me lately. On Sunday's there is a great BBQ and Brew where you get a great selection of real Texas BBQ Brisket, Ribs etc. etc. with an amazing selection of southern dishes that remind me of my grandma back in east Texas. Everything is fresh and tasty and moderately priced. I didnt have a players card but signed on for one before I left to get some of their other meal deals. The BBQ, they say, comes from Texas from a family named Mikeska. I googled them and was impressed with what I found. Amazing family with a long history of Texas BBQ. Even saw Tim Mikeska on the Travel Channel. I think also on the Food Network. However it's done, the Silvertons definately has it together and is quickly becomming a great food destination.

Tim Mikeska, the owner of Rudy Mikeska's Bar-B-Q and a man locally known as one of the best barbecue chefs in town, is spreading the flavor of Central Texas across the U.S. His brand is building steam in Chicago and Las Vegas. In April, Mikeska announced Smoque BBQ in Chicago would add a brand of his sausage to their menu. The traditional Czech recipe comes straight out of the cradle of Texas barbecue country and is making a killing in the American city known as the "hog butcher of the world." "Sausage is king in Chicago, and they named me the king of Chicago sausage," Mikeska said. In October, Mikeska shared some of his wild game recipes with Andrew Zimmern, the host of the Travel Channel's "Bizarre Foods with Andrew Zimmern." Seven producers from the network arrived at the Circle V-BHARRE Exotic Game Ranch, owned by the Mikeska's, to film Mikeska preparing his delicacies. Zimmern experienced a few traditional Czech foods — jitrnice, smoked sweetbreads, head cheese and bacon-wrapped jalapeno smoked wild dove — and enjoyed a variety of other smoked meats. The program featuring Mikeska will be broadcast next spring. Mikeska is in Nevada this week celebrating the adoption of his brands to the menu of the Silverton Casino Lodge's Shady Grove Lounge in Las Vegas. He returned to town to celebrate Thanksgiving with his family, but will depart to finish his work in Las Vegas after the holiday. The debut of Mikeska Brands, featured at the lounge under the heading "authentic Texas Bar-B-Q," went over well, with local residents arriving in long lines to try the food.
Tim Mikeska and the Mikeska Family Featured in the following Books about Barbecue...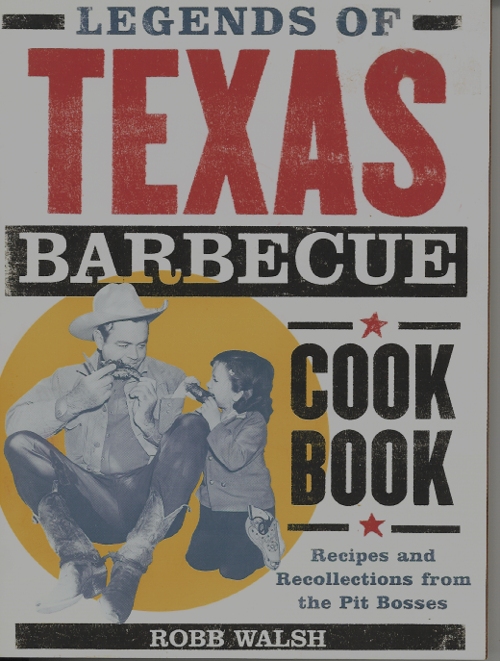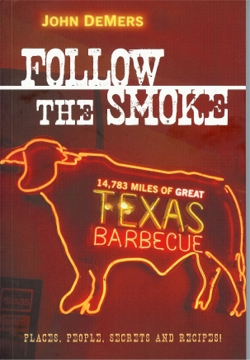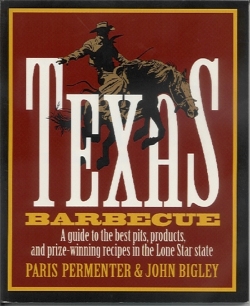 Tim Mikeska featured on the The Emmy Award winning documentary: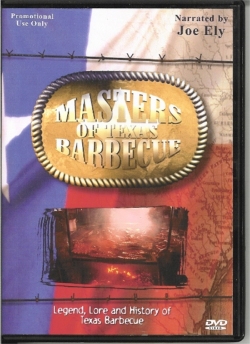 The FoodNetwork with Chef Bobby Flay's
FoodNations with Tim Mikeska, Taylor Texas
The Travel Channel with Chef Andrew Zimmern
and Tim Mikeska at cousin Mike and JoBeth Vanecek's Family V-BHARRE Ranch Gathering.
Timothy Mikeska on The Travel Channel's Kids Food Special with Chef Andrew Zimmern